Report, February 2011 - birds
This report presents the results of a number of bird counts carried out by Christian Hjorth, Egon Østergard and Knud Pedersen on the properties owned by the Aage V. Jensen Charity Foundation in northern South Africa in February 2011. As far as we know, no similar counts have been made in this area previously, and the data collected are therefore a baseline for the birdlife of the area. Due to the method used, corresponding counts can be repeated under the same conditions in a few years' time, thereby indicating any changes that may have occurred in the avian fauna of the individual localities. It is the hope that the counts can be used by the Foundation as documentation of the high quality of nature in the area and thereby help to secure the area's status as an important nature reserve.
The counts were carried out as 24 point counts each of one hour's duration spread over the Foundation's three properties. 14 counts were made at the Maremani Nature Reserve, 4 at the Limpopo Conservancy and 6 at Dover. We counted every day during the period Sunday 13th February up to and including Saturday 19th February 2011. The counts produced a total of 240 species.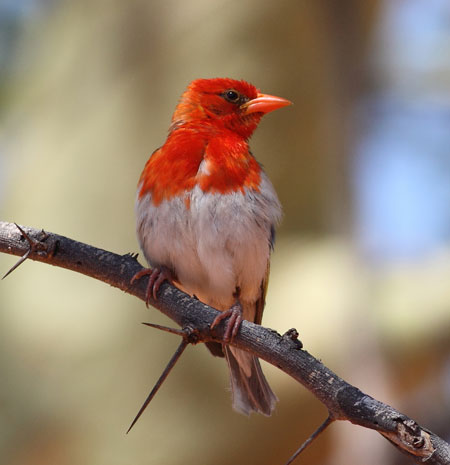 Red-headed Weaver